Entopia by Penang Butterfly Farm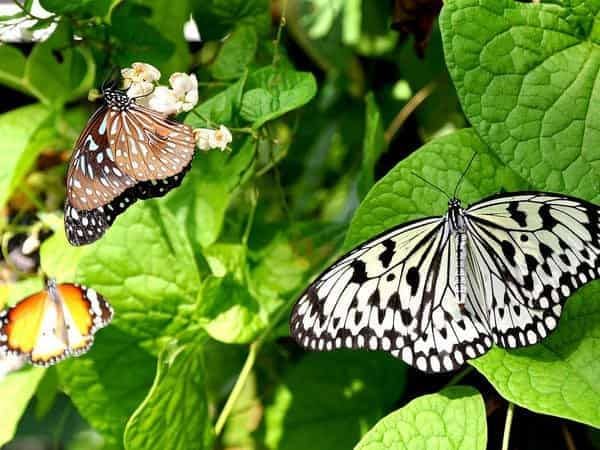 Opened in March 1986 and established by Mr David Goh, the original Penang Butterfly Farm was the first tropical butterfly exhibition in the world. Situated in Teluk Bahang, Penang, it is approximately 44 minutes' drive away from Lexis Suites Penang. The present reincarnated Penang Butterfly Farm, opened to the public on May 2016, is known as Entopia by Penang Butterfly Farm and is helmed by Mr Joseph Goh, the son of Mr David Goh.
More than just a butterfly sanctuary and tourist attraction, Entopia Penang Butterfly Farm was set up as a living museum to educate the public, as well as a research centre to develop breeding methods. With over 4000 Malaysian butterflies of 120 different species, including the rare Indian Leaf butterfly (Kallima Paralekta) and the endangered Yellow Bird Wing (Troides Helena), visitors will be enchanted by the fluttering butterflies surrounding them in the butterfly farm.
Just 27 kilometres away from Lexis Suites Penang, Entopia by Penang Butterfly Farm also houses other attractions such as reptiles, ducks, birds as well as live exhibitions of jungle insects and many other invertebrates such as beetles, stick and leaf insects, spiders and many more. Besides that, facilities such as cafés and souvenir stores are available for visitors as well. Truly, Entopia by Penang Butterfly Farm is the ideal centre for educational and research purposes, not just for tourists but for butterfly enthusiasts and research professionals working in this field.
Penang Butterfly Farm's opening hours are from 9.00 am until 6.00 pm daily including weekends and public holidays. Can't wait to be mesmerized by the fluttering wings of thousands of butterflies surrounding you? Book your stay at Lexis Suites Penang now!

Entry Fee:
Non MyKad holders: RM 65 (adults), RM 60 (senior citizens - 60 years and above), RM 45 (children - 4 to 12 years old)
MyKad holders: RM 49 (adults), RM 29 (childen - 4 to 12 years old and senior citizens)

(Prices are subject to change)
Map:
No.830, Jalan Teluk Bahang, Teluk Bahang, 11050, Pulau Pinang, Malaysia
Monday9:00am - 6:00pm
Tuesday9:00am - 6:00pm
Wednesday9:00am - 6:00pm
Thursday9:00am - 6:00pm
Friday9:00am - 6:00pm
Saturday9:00am - 6:00pm
Sunday9:00am - 6:00pm