Photo Credit: 123RF | @thamkc
9 Fun Things To Do In Penang (Day & Night Activities)
Published October 23, 2023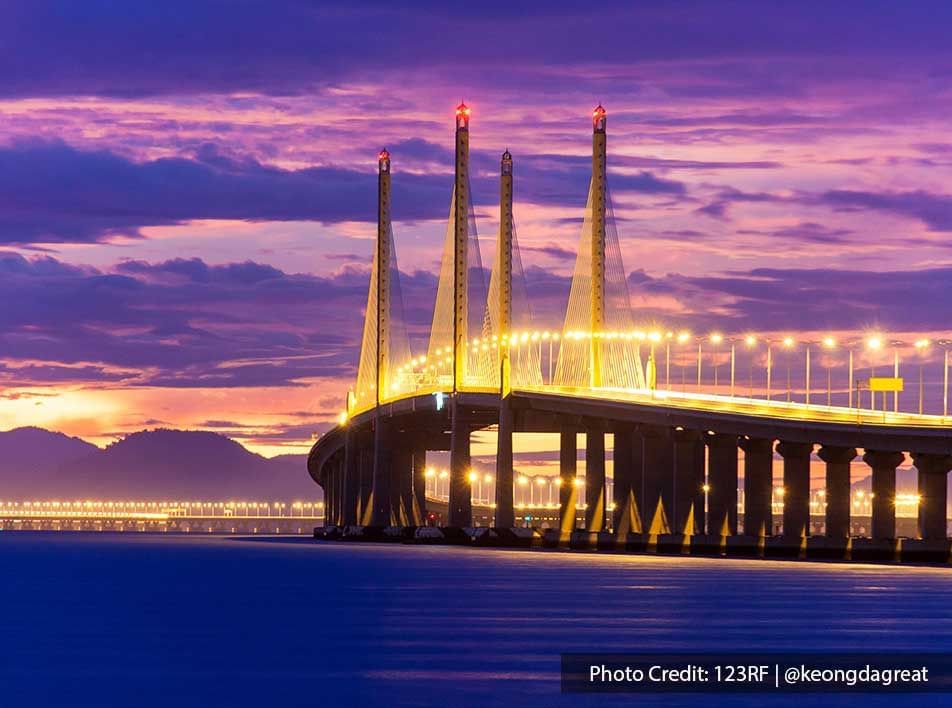 Penang, situated off the coast of Peninsular Malaysia, offers plenty of exciting and unforgettable experiences that make it one of the most beloved destinations in Southeast Asia. From steamy street food to stunning colonial architecture, Penang is renowned for its cultural and historical attractions. But, there are a ton of fun things to do in Penang both during the day and at night, making Penang a must-visit vacation spot.
Day
During the day, there's no shortage of activities to keep you entertained and mesmerized. From immersing yourself in rich cultural heritage to indulging in culinary delights and discovering natural wonders, here are some enticing things to do in Penang that will make your daytime adventures truly unforgettable.
1. Go On The Ultimate Food Hunt
When it comes to what to do in Penang, there's one experience that should be at the top of every food lover's list - the ultimate food hunt. Embark on an extraordinary gastronomic journey through the vibrant streets of Penang, where culinary delights and tantalizing flavors await at every corner. Combine this gastronomic adventure with sightseeing in Penang, and you have the recipe for an extraordinary and mouth watering exploration.
Begin your food hunt by strolling along the bustling streets of George Town, the heart of Penang's culinary scene. The air is infused with the aroma of sizzling spices and fragrant herbs, beckoning you to explore the diverse street food stalls lining the sidewalks.
Some of the island's iconic dishes you should not miss out on include Char Koay Teow - a stir-fry flat rice noodle dish with succulent prawns and crunchy bean sprouts, all infused with smoky wok hei; Nasi Kandar - a legendary Indian-Muslim dish featuring a fragrant plate of steamed rice, generously topped with an array of curries, from spicy fish to creamy butter chicken; and mouthwatering Assam Laksa - a tangy, spicy fish-based noodle soup that will awaken your senses with its medley of tamarind, lemongrass and aromatic herbs.
2. Immerse Yourself In The Captivating World of Street Art
Prepare to be immersed in a visual feast as you explore the streets, discovering the rich tapestry of stories, culture and creativity that unfolds before your eyes. As you wander through the charming alleys of George Town, you'll encounter a kaleidoscope of captivating imagery and vibrant colors adorning the walls, transforming the city into an open-air gallery, making it one of the most fun things to do in Penang. Penang's street art scene burst into prominence with the introduction of the "Mirrors George Town" project, led by Lithuanian artist Ernest Zacharevic. His iconic murals created a ripple effect, inspiring local and international artists to contribute their creativity to the city's walls.
Discover the interactive wonders of Penang's street art with some of the famous murals and innovative installations that pay tribute to Penang's rich heritage and depict local traditions and vibrant festivals. Some of the can't miss artworks include the captivating iron rod sculptures known as "Marking George Town" and the "Children on Bicycle" mural, which is perfect for your Instagram selfies, with its ingenious use of a real bicycle mounted on the wall, inviting visitors to pose and become a part of the scene, capturing a timeless memory.
3. Have Your 'Crazy Rich Asian' Moment
Step into the extravagant world of "Crazy Rich Asians" as you witness the breathtaking scenes filmed in Penang. Make sure to include this in your list for fun things to do in Penang and be prepared to be dazzled by opulent mansions, luxurious parties and picturesque landscapes that transport you to the realm of the fabulously wealthy.
One of the most iconic scenes in the movie unfolds at the beginning of the film at the colonial-style E&O hotel, and later at the magnificent Cheong Fatt Tze Mansion, also known as the Blue Mansion.
As you step inside, you are greeted by the grandeur of the 19th century Chinese architecture, adorned with intricate carvings, ornate furnishings and vibrant blue walls. The mansion serves as the backdrop for the epic mahjong face-off scene with Eleanor Young, a.k.a. Evil mother-in-law-to-be and protagonist Rachel Chu.
Follow in the footsteps of the film's characters as they explore the bustling streets of George Town. The vibrant colors of the historical shophouses, adorned with intricate murals and ornate facades, creating a visually stunning backdrop for the unfolding drama. These charming streets come alive with the energy of the film, immersing you in the rich cultural tapestry of Penang.
4. Hike Up Penang Hill
Nature seekers, are you wondering what to do in Penang? Look no further than an exhilarating hike as you embark on an enchanting journey to Penang Hill, where nature's grandeur meets panoramic vistas that will take your breath away. As you lace up your hiking boots and set foot on this captivating trail, prepare to be immersed in a world of awe-inspiring beauty and tranquility.
The hike to Penang Hill is a testament to the island's rich natural heritage. The trail, carefully carved through verdant forests and lush foliage, offers a sense of adventure and a deep connection with nature. As you ascend higher, the air becomes crisper, infused with the scents of tropical flora, invigorating your senses and uplifting your spirits.
With every step, the anticipation builds, for you know that a majestic reward awaits you at the summit. As you reach the pinnacle, your eyes are greeted by an awe-inspiring sight—the breathtaking scenery of Penang Island unfolds before you like a masterpiece. The mesmerizing blend of urban landscapes, verdant hills, and azure waters creates a captivating tapestry that stretches as far as the eye can see.
5. Unlock The Mystery Of Crag Hotel - An Eerie Adventure In Penang Hill
Are you ready to explore the darker side of Penang's allure? If you're seeking spine-tingling thrills amidst the enchanting beauty of Penang Hill, look no further than the hauntingly intriguing Crag Hotel and add it to your list of fun things to do in Penang. Step into a realm of mystery and excitement as you embark on an unforgettable journey through this abandoned, yet captivating, destination.
Tucked away on the mist-shrouded Penang Hill, Crag Hotel stands as a testament to the past, with a rich history that echoes through its decaying corridors and weakened structure - from a residence in the mid-1880s to a hotel in 1894 and an international school, and was also used as set locations for major productions including the Academy award-winning French film, "Indochine" starring actress Catherine Deneuve. This forsaken gem offers brave souls a chance to experience fun and fear in equal measure, making it a must-visit for thrill-seekers and paranormal enthusiasts. Some curious adventure-seekers have experienced supernatural incidences upon venturing the site, with some claiming to seeing a ghost of a school girl lingering around.
6. Discover the Spiritual Splendors of Penang: Unveiling Exquisite Places of Worship
Experience the captivating blend of spirituality and architectural marvels while sightseeing Penang. Embark on a journey through some of the famous and unique places of worship that will leave you in awe. Experience the essence of divine beauty and immerse yourself in a tapestry of faith and architecture as you explore these famous and unique places of worship.
Kek Lok Si Temple: Prepare to be mesmerized by the magnificent Kek Lok Si Temple, a true masterpiece of Chinese architecture. Nestled on a hilltop, it stands as the largest Buddhist temple in Southeast Asia. Its sprawling complex showcases a harmonious blend of Chinese, Thai, and Burmese influences. Adorned with colorful pagodas, intricately carved statues, and stunning gardens, this sacred place offers a serene ambiance, making it a must-visit attraction in Penang.
Floating Mosque: As you journey along Penang's coastal beauty, a unique sight awaits you—the Floating Mosque. Perched on stilts above the shimmering sea, this architectural gem showcases a fusion of Islamic and Moorish design elements. Its serene atmosphere, surrounded by the soothing sound of waves, creates a truly enchanting experience. Marvel at the mosque's graceful minarets and delicate arches, and immerse yourself in a sense of tranquility at this extraordinary place of worship.
Arulmigu Balathandayuthapani Waterfall Temple: Hidden amidst the lush tropical rainforest of Penang, the Arulmigu Balathandayuthapani Waterfall Temple is a spiritual retreat like no other. Ascend the steps that wind through the verdant landscape, offering panoramic views of Penang Island. Reach the temple perched on the hilltop, dedicated to Lord Murugan, and be enchanted by its natural surroundings and the awe-inspiring waterfall that cascades nearby. This mystical oasis exudes a sense of serenity and is a testament to the diversity of religious landmarks in Penang.
St. George's Church: Immerse yourself in Penang's rich colonial history with a visit to St George's Church, a testament to the island's British heritage. Step into the past as you enter this beautifully preserved Anglican church, built in the 19th century. Admire the elegant architecture and intricate detailing that reflect the neo-Gothic style. As you explore the tranquil interior, you'll feel a sense of reverence and connection to the island's colonial past.
7. Unleash Your Inner Adventurer
Looking for adventure and thrills in Penang? Discover an array of exhilarating experiences and fun things to do in Penang that will make your visit unforgettable. This vibrant destination offers a plethora of thrilling experiences that will ignite your sense of adventure and leave you with cherished memories.
The TOP Penang: Elevate your senses and conquer your fears at The TOP Penang (located in the Komtar Tower), home to Gravityz and the Rainbow Skywalk, the highest glass bridge in Asia. Embark on an adrenaline-pumping adventure as you step onto the glass platform, suspended high above the city. Feel the rush as you walk across the transparent floor, offering breathtaking views of Penang's skyline. For the ultimate thrill-seekers, Gravityz awaits—an exhilarating high-rope course that challenges your limits. Get ready to push yourself to new heights and create unforgettable memories.

Rainbow Skywalk & Observation Deck
Address: Level 68, The TOP Penang, Menara Komtar
Opening Hours: 10:00am – 10:00pm daily / 10:00am – 7:00pm (Tuesdays)
Contact: +6017-289 0800 (WhatsApp) | +6012-336 8074 / +017-289 0366 (Call)
The Gravityz
Address: Level 65, The TOP Penang, Menara Komtar
Opening Hours: 11:00am – 2:00pm / 3:00pm – 7:00pm (Tuesdays to Sundays. Closed on Mondays)
Contact: +6012-336 8074 / +604-375 9800
ESCAPE Theme Park: Prepare for a day of boundless excitement at ESCAPE Theme Park, a haven for thrill-seekers of all ages. Unleash your inner adventurer as you navigate through a variety of thrilling rides, obstacle courses, and adrenaline-pumping activities. Swing through the air on Tarzan's Rope, test your agility at Gecko Tower, or challenge yourself and your friends or teammates with the obstacle course. With a wide range of dry and wet attractions that blend physical challenges with natural landscapes, ESCAPE Theme Park promises an unforgettable and fun-filled experience.

Address: 828, Jalan Teluk Bahang, 11050 Penang
Opening Hours: 10:00am – 6:00pm (Tuesdays to Sundays. Closed on Mondays)
Contact: info@escape.my
Countryside Stables in Balik Pulau: Immerse yourself in nature's beauty and experience the joy of horseback riding at Countryside Stables in Balik Pulau. Set amidst picturesque countryside scenery, this serene equestrian center offers a unique opportunity to connect with these majestic animals. Enjoy a leisurely ride through lush green trails, surrounded by rolling hills and idyllic landscapes. Whether you're a seasoned rider or a beginner, the experienced guides at Countryside Stables ensure a safe and memorable equestrian adventure for all.

Address: Lot 10050, Jalan Sungai Burung, Kampung Sungai Burung, 11000 Balik Pulau
Opening Hours: 1:30pm – 6:00pm (Daily)
Contact: +6012-408 0678
Night
When the sun sets, Penang comes alive with a vibrant and eclectic nightlife scene that promises unforgettable experiences. From lively night markets and bustling street food stalls to chic bars and electrifying clubs, Penang offers a diverse range of options for those seeking entertainment and excitement after dark.
8. Discover Penang's Cultural Sites
Penang, situated off the coast of Peninsular Malaysia, offers plenty of exciting and unforgettable experiences that make it one of the most beloved destinations in Southeast Asia. From steamy street food to stunning colonial architecture, Penang is renowned for its cultural and historical attractions. But, there are a ton of fun things to do in Penang both during the day and at night, making Penang a must-visit vacation spot.
Kek Lok Si Temple: Witness the grandeur of Kek Lok Si Temple illuminated against the night sky. This sprawling Buddhist temple complex takes on a mesmerizing charm as its ornate structures, towering pagodas, and statues are bathed in colorful lights. Take a leisurely stroll through the temple grounds, enjoy the serene atmosphere, and marvel at the intricate details that make this temple a true architectural marvel.
Cheong Fatt Tze Mansion: Step into the past at the iconic Cheong Fatt Tze Mansion, also known as the Blue Mansion. This beautifully restored 19th-century Chinese courtyard house showcases the vibrant heritage of Penang's Chinese community. The indigo-blue façade of the mansion glows under the evening lights, exuding an aura of elegance and mystery. Take a guided tour to explore the exquisite interiors adorned with intricate carvings, colorful tiles, and antique furniture, and gain insights into the mansion's rich history.
Street Art of George Town: Explore the vibrant street art scene of George Town under the cover of night. This UNESCO World Heritage Site is renowned for its captivating murals and interactive street art installations. As darkness falls, the city's alleyways and walls become a canvas that comes alive with the play of light and shadow, creating a unique and atmospheric experience. Take a self-guided walking tour or join a guided tour to discover the hidden gems and delightful surprises that await at every turn.
Clan Jetties of George Town: Wander along the wooden boardwalks of the Clan Jetties at night, and delve into the fascinating cultural heritage of Penang's Chinese communities. These waterfront settlements, each named after a Chinese clan, offer a glimpse into the traditional way of life that has been preserved for generations. As evening descends, the flickering lights of the jetties and the sight of the city skyline across the water create a captivating backdrop for an immersive cultural exploration.
Little India: Experience the vibrant atmosphere of Penang's Little India after dark. The bustling streets come alive with colorful lights, aromatic scents of spices, and the sounds of Indian music. Explore the vibrant shops selling traditional clothing, jewelry, and handicrafts, and indulge in authentic Indian cuisine at the street-side stalls and restaurants. Be enchanted by the festive atmosphere and immerse yourself in the rich cultural tapestry of this vibrant neighborhood.
9. Experience The Vibrant Night Markets
Step into the vibrant tapestry of Penang's night markets and immerse yourself in a sensory feast that showcases the essence of the city's bustling street culture. These lively markets come alive as the sun sets, offering a delightful blend of tantalizing aromas, vibrant colors, and a wide array of goods to explore. Discover the enchanting night markets of Penang and experience the vibrant energy that fills the air.
Batu Ferringhi Night Market: Embark on a sensory adventure at the Batu Ferringhi Night Market, one of the must-visit places to experience the vibrant night activities in Penang. Located along the popular beachfront of Batu Ferringhi, this bustling night market is a must-visit for both locals and tourists. As dusk settles, the streets transform into a vibrant display of bustling stalls, offering a diverse range of goods. From colorful clothing and accessories to handicrafts, souvenirs, and local artwork, you'll find a treasure trove of items to peruse. Bargaining is a common practice here, so unleash your negotiating skills as you hunt for unique finds at great prices. After shopping, satisfy your cravings at the hawker stalls serving up delicious street food.
Pasar Malam Pulau Tikus: Located in the Pulau Tikus neighborhood, this night market is a local favorite that showcases the true spirit of Penang's street culture. The narrow lanes of this bustling market are filled with a vibrant array of stalls selling fresh produce, local snacks, clothing, accessories, and more. Indulge in the local flavors as you sample mouthwatering street food delights like char koay teow, rojak, and freshly squeezed fruit juices. The lively atmosphere, friendly vendors, and eclectic mix of goods make Pasar Malam Pulau Tikus a vibrant and authentic Penang experience.
Pasar Malam Tanjung Bungah: Uncover the charms of Penang's night activities at Pasar Malam Tanjung Bungah. Nestled in the picturesque coastal area of Tanjung Bungah, this night market offers a delightful mix of stalls selling clothing, accessories, household goods, and more. As you wander through the market, the vibrant colors and lively chatter create an electric ambiance. Don't miss the opportunity to savor local street food delights like Apam Balik (pancake) and Assam Laksa.

Ultimately, the Pearl of the Orient is a destination that never fails to excite and inspire. With its irresistible culinary delights, fascinating sightseeing Penang opportunities, and an abundance of fun things to do both day and night in Penang, this Malaysian gem invites you to embark on an unforgettable journey.

Whether you're a food enthusiast, a culture seeker, or an adventure lover, Penang has something extraordinary in store for you. So pack your bags, embrace the excitement and let Penang's allure captivate your senses, starting with a trip to Lexis Suites Penang, which comes with your very own private pool in your suite.