St George's Church, Lebuh Farquhar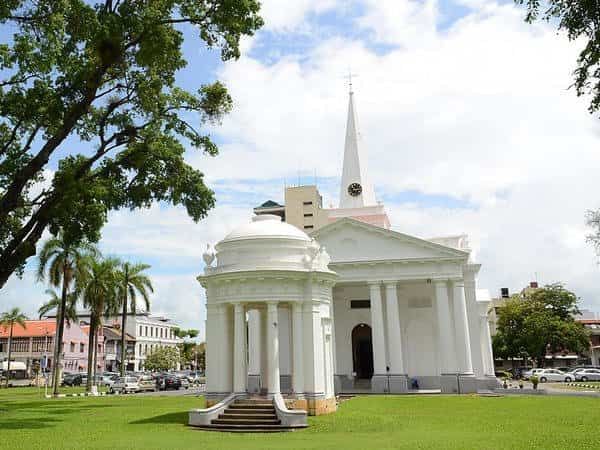 Declared as one of Malaysia's 50 National Treasures and a National Heritage by the Malaysian Government, St. George's Church Penang is a 19th century Anglican church situated 34 minutes' drive away from Lexis Suites Penang. It's located at the corner of Farquhar Street and Jalan Masjid Kapitan Keling in the city of George Town in Penang, Malaysia.
Also known as St. George's Anglican Church by the locals, St. George's Church Penang is the oldest Anglican Church in South East Asia and it was constructed between 1817 and 1818 under the supervision of Captain Robert N. Smith of the Madras Engineers, whose considerable talents also extended to etchings and oil paintings. Some of his impressive work of oil paintings of Penang landscape still grace the walls of the Penang State Museum. Founded by Reverend Robert Hutchings and built with funds from the East India Company, St. George's Church Penang is located approximately 22 kilometres away from Lexis Suites Penang.
Surrounded by majestic mahogany trees planted by A.B.Mackean in 1885, the architecture of St. George's Church in Penang heavily reflects Georgian Palladian influences, a hybrid architectural style which is a combination of 'Georgian', an architectural style which portrays the characteristics of King George I and IV (1714 – 1830) and 'Palladum', named after the Grecian-styled architectural works of a Roman named Palladius.
The gracefully proportioned building comes with huge Grecian columns lined outside of the front entrance, making it the most striking feature of the church's architecture. Originally built with a Madras-style flat roof, it was modified to the present gable shaped roof which was built in 1864 after the occupants realized that the original roof was unsuitable for the climate in Penang. Inviting visitors with its Grecian columns, louvred doors and pitched roof, St. George's Church Penang also hosts a special memorial to Captain Francis Light in the form of a Greek temple. St. George's Church in George Town was claimed to have similar architectural designs with St. George's Cathedral in Chennai, India.
If you're walking around the older parts of the city, you can easily make your way to St. George's Church Penang as this attraction is just a couple of minutes' walk away from the Penang Esplanade and also from the Penang Museum.
Sunday services are open to public as well from 8.30 am onwards. What are you waiting for? Book your stay at Lexis Suites Penang and head over to explore this National Heritage site today.

Entry Fee:
Free

(Prices are subject to change)
Map:
Georgetown, 10200 George Town, Penang, Malaysia
Monday9:00am - 1:00pm
Tuesday9:00am - 1:00pm
Wednesday9:00am - 1:00pm
Thursday9:00am - 1:00pm
Sunday8:30am - 12:00pm