Sri Mahamariamman Temple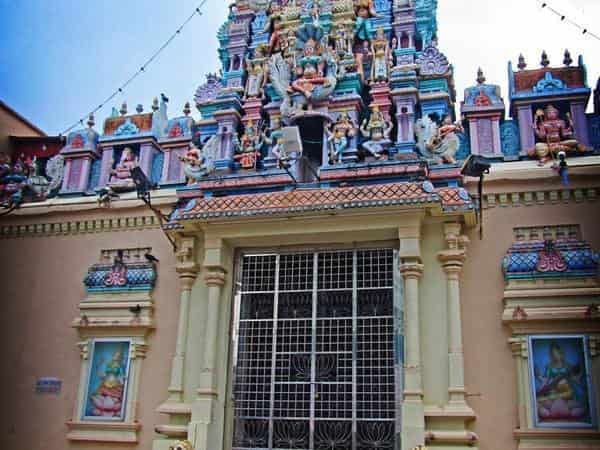 Located 35 minutes' drive by car from Lexis Suites Penang, Sri Mahamariamman Temple is situated in Queen Street, George Town and it is the oldest Hindu temple in Penang, Malaysia. Built in 1833, the Arulmigu Sri Mahamariamman Temple Penang features sculptures of gods and goddesses all over its main entrance and façade. Throughout the years, the Sri Mahamariamman Temple has also been known by several names such as Sri Muthu Mariamman Temple, Sri Arulmigu Mahamariamman Temple, Sri Mariamman Temple, Mariamman Temple or Queen Street Indian Temple.
Standing at the same spot for over 200 years, the Sri Mahamariamman Temple is dedicated to the Hindu deity Sri Muthu Mariamman, who is popularly worshipped by Indians especially those from South India. When the Indian Tamils first arrived in Penang, the Sri Mahamariamman Temple began as a small and simple shrine. The Indian community found a need for a proper temple ground for worshipping and by 1833, the Sri Mahamariamman shrine was enlarged into a temple to accommodate the ever-increasing Indian community presence on the island.
The heavily ornate Sri Mahamariamman Temple which is approximately 21 kilometres away from Lexis Suites Penang, commands a stunning view with precious stones and shining diamonds as part of its façade. The architectural of Sri Mahamariamman Temple is impressive as it is built in the south Indian Dravidian style and the most distinctive feature of the temple is the magnificent gopuram (tower) which is 23.5 feet tall. Surrounding the colourful four-tiered tower are brightly coloured sculptures of Hindu deities, soldiers, floral decorations and four swans. It is then topped with five small kalasams. The interiors of the temples are heavily sculptured with deities of Lord Ganesha and many other Hindu deities and figures.
During festival seasons such as Navarathiri, Chithra Pournami, Deepavali and Thaipusam, the Sri Mahamariamman Temple Penang is particularly packed with thousands of devotees who are eager to offer their prayers on the holy days. The Sri Mariamman Temple's opening hours are from 6.30 am until 12.00 pm and from 4.30 pm until 9.00 pm. The temple closes after prayers are performed at 12.00 pm and 9.00 pm respectively. There are daily Pujas (prayers) on 7.30 am and 6.30 pm. These prayers are usually conducted by the temple priests and visitors may observe the prayer sessions. The admission is free though visitors may be asked for a donation (the amount is up to the visitor).
Can't wait to be fully immersed in the fascinating architecture, artistic sculpture and spiritual beauty of this ancient temple? Book your stay at Lexis Suites Penang for a culturally and spiritually enlightening trip around all the historical attractions nearby.

Entry Fee:
Free

(Prices are subject to change)
Map
Lebuh Queen, George Town, 10450 George Town, Pulau Pinang, Malaysia
Monday6:30am - 12pm | 4:30pm - 9:00pm
Tuesday6:30am - 12pm | 4:30pm - 9:00pm
Wednesday6:30am - 12pm | 4:30pm - 9:00pm
Thursday6:30am - 12pm | 4:30pm - 9:00pm
Friday6:30am - 12pm | 4:30pm - 9:00pm
Saturday6:30am - 12pm | 4:30pm - 9:00pm
Sunday6:30am - 12pm | 4:30pm - 9:00pm