Kuan Yin Temple, Jalan Kapitan Keling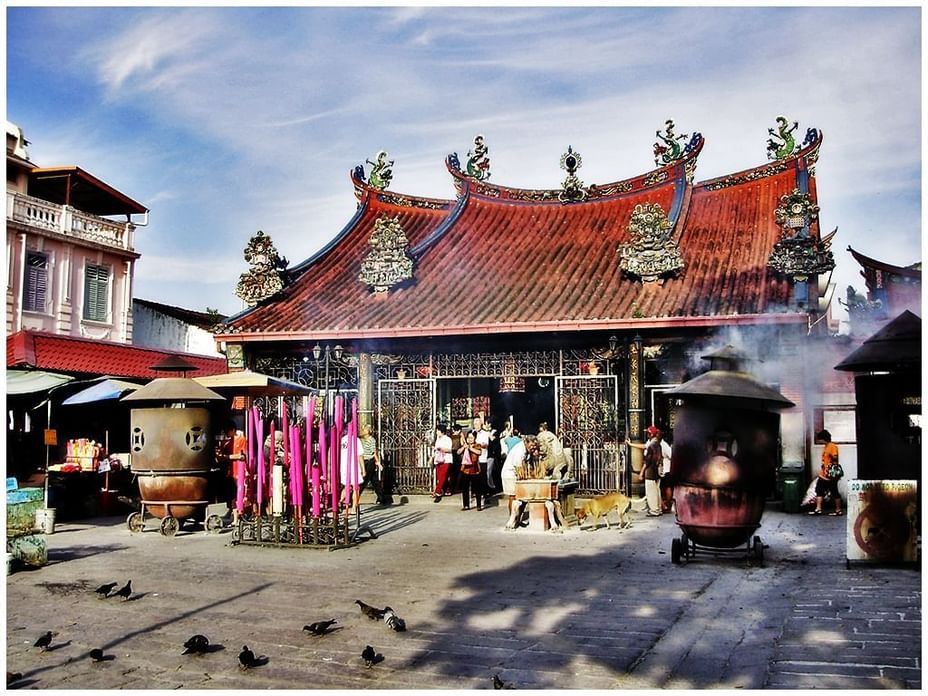 5 THINGS TO DO AT KUAN YIN TEMPLE
Informally called The Temple of Compassion, Kuan Yin Temple in Penang, or Kuan Yin Teng, truly lives up to its name. At this majestic and aesthetically pleasing Buddhist temple, acts of compassion are encouraged. Find out the top five things to do at Kuan Yin Temple in Penang:
1. Buying birds and releasing them
There are stalls in the vicinity where you can find flowers and birds being sold. You can buy the birds, feed them and release them; a good deed that's in line with the temple's theme, which is to show mercy and compassion.
2. Feed the poor
Although the Goddess of Mercy Temple in Penang is a Buddhist temple, you can find plenty of Hare Krishna followers at the temple distributing free food to the beggars and homeless regardless of religion and race. You may volunteer to help distribute the food to those in need.
3. Watch cultural performances
Visiting Penang's Kuan Yin Temple is incomplete without watching the cultural performances. If you come at the right time (based on the Chinese lunar calendar), you may catch the Chinese opera and puppet shows staged in the temple's courtyard.
4. Witness religious rituals
Visitors throughout the world would flock to Penang's Goddess of Mercy to seek her blessings, and you can witness devotees lighting joss sticks ad burning paper offerings at the two large iron stoves.
5. Visit nearby attractions
Penang Kuan Yin Temple is strategically located at Jalan Kapitan Keling, where other major landmarks and attractions are also nearby, such as Little India, Cheong Fatt Sze Mansion, and St. George's Anglican Church.
If you're planning to visit the Goddess of Mercy in Penang, stay at a nearby hotel for convenience. Why not add a little luxury to your trip by staying at Lexis Suites Penang, located just a few minutes' drive from the merciful white-robed goddess. For more information or to book a room, visit the Lexis Suites Penang website today.

Entry Fee:
Free

(Prices are subject to change)
Map:
30, Jalan Masjid Kapitan Keling, George Town, 10200 George Town, Pulau Pinang, Malaysia
Monday5:00am - 6:00pm
Tuesday5:00am - 6:00pm
Wednesday5:00am - 6:00pm
Thursday5:00am - 6:00pm
Friday5:00am - 6:00pm
Saturday5:00am - 6:00pm
Sunday5:00am - 6:00pm