Acheen Street Mosque, Lebuh Acheen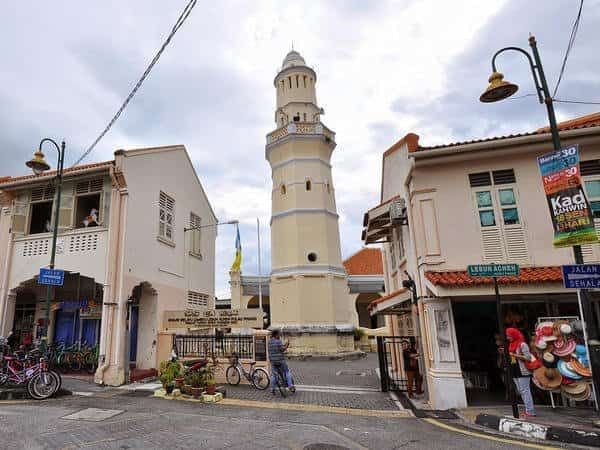 Masjid Melayu Lebuh Acheh, also famously known as Acheen Street Mosque Penang or Acheen Street Malay Mosque is a 19th century mosque located approximately 22 kilometres away from Lexis Suites Penang. Founded in 1808 by Tengku Syed Hussain Idid, an Acehnese aristocrat of Arab descent who moved to Penang at the invitation of Captain Francis Light, Masjid Melayu Lebuh Acheh is considered as one of the oldest mosques in Penang.
In 1792, Tengku Syed Hussain Idid settled in the area known as Acheen Street (now Lebuh Acheh) and over the years, he turned the settlement into a centre for Islamic studies in Penang as well as an important trading base frequented by Malay and Arab traders. Most of the trading items consists of spices, clothes, jewelleries, perfumes and many more which prospered the town. Due to the large number of people that came with Tengku Syed Hussain Idid, coupled with the influx of Muslims from the archipelago over the years, the Masjid Melayu Lebuh Acheh was built to serve and facilitate the performance of congregational prayers of the increasing number of Muslims.
Following the demise of Tengku Syed Hussain Idid, Acheen Street continued to thrive and it was once referred to as the Second Jeddah due to the congregation of the nearby pilgrims before departing to Mecca by sea. Every year during the Haj season, the Acheen Street will be thronged by pilgrims and their families. Built alongside houses, shops, trading offices and a Madrasah for Quranic Studies, Masjid Melayu Lebuh Acheh is noteworthy for its Arab-style minaret with an Achehnese roof. Within the compound of Masjid Melayu Lebuh Acheh, visitors may find the mausoleum of the founder Tengku Syed Hussain Idid which has simple unadorned tombstones covered by a shelter built to shield the grave. Tengku Syed Hussain Idid's legacy of built heritage can still be found in Lebuh Acheh today.
Book your stay at Lexis Suites Penang now and don't forget to take the opportunity to visit this unique and historical mosque. If you're interested in similar attractions, you might also want to visit the Kapitan Keling Mosque located at Jalan Buckingham.

Entry Fee:
Free

(Prices are subject to change)
Map:
Jalan Lebuh Acheh, Pulau Pinang, 11200 George Town, Malaysia
Monday9:00am - 5:00pm
Tuesday9:00am - 5:00pm
Wednesday9:00am - 5:00pm
Thursday9:00am - 5:00pm
Friday9:00am - 5:00pm
Saturday9:00am - 5:00pm
Sunday9:00am - 5:00pm