Kapitan Keling Mosque, Jalan Buckingham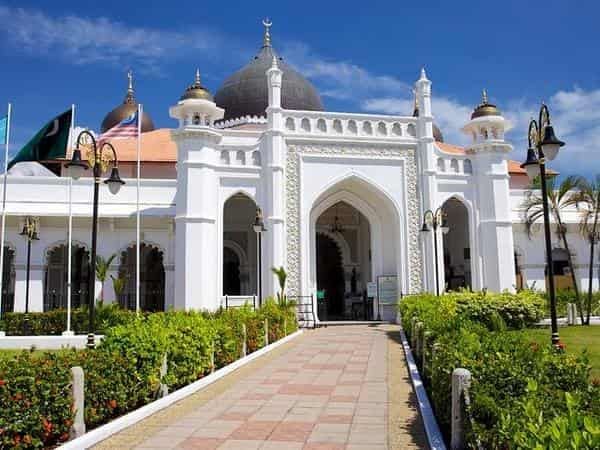 Located approximately 22 kilometres away from Lexis Suites Penang, the Kapitan Keling Mosque or also known as Masjid Kapitan Keling Pulau Pinang (Masjid Kapitan Keling Penang) by the locals, is a mosque built in the 19th century by the Indian Muslim traders from the East India Company in the 1700s. The Kapitan Keling Mosque was named after Cauder Mydin Merican also referred to as 'Kapitan Keling', the founder of the mosque and leader of the Indian community.
The Kapitan Keling Mosque came about when Sir George Leith, the then Lieutenant Governor of Penang granted the Muslims an 18-acre lot for religious use in 1801. The 18-acre lot has now been reduced to only eight acres as the rest of the land are used for building roads and houses. Situated in the busy streets of Buckingham Street (Lebuh Buckingham) and Pitt Street (Jalan Masjid Kapitan Keling), the architecture of the Kapitan Keling Mosque is truly a sight to behold. Beautifully painted in white and adorned with yellow Moghul-style domes, crescents and stars, the Kapitan Keling Mosque also features a madrasah, a place where religious classes are held and a towering minaret from which the sound of the azan or call to prayer can be heard.
Besides that, one must not miss the magnificent chandelier that hangs above the highest ceiling of the Kapitan Keling Mosque and the unique architecture of Moorish and Roman arches. The walls of the Kapitan Keling Mosque are covered with calligraphy panels and stained-glass windows as well as arabesque geometric designs and floral motifs which can also be found throughout the mosque. Long rows of prayer rugs that are strewn all over the marble floors can also be seen as visitors enter the Kapitan Keling Mosque. Being a prominent Islamic historic centre, the Kapitan Keling Mosque is part of the World Heritage Site of George Town.
Although the admission is free, the worship hall is out of bounds to non-Muslims. Guided tours are also available, and visitors may approach the Islamic Information Centre located at the ground floor of the minaret for more information on this. Now hurry and book your stay with us at Lexis Suites Penang and head over to this one of a kind historical mosque!

Entry Fee:
Free

(Prices are subject to change)
Map:
14, Jalan Buckingham, George Town, 10200 George Town, Pulau Pinang, Malaysia
Monday11:30am - 6:30pm
Tuesday11:30am - 6:30pm
Wednesday11:30am - 6:30pm
Thursday11:30am - 6:30pm
Friday11:30am - 6:30pm
Saturday11:30am - 6:30pm
Sunday11:30am - 6:30pm