Khoo Kongsi Temple, Lebuh Cannon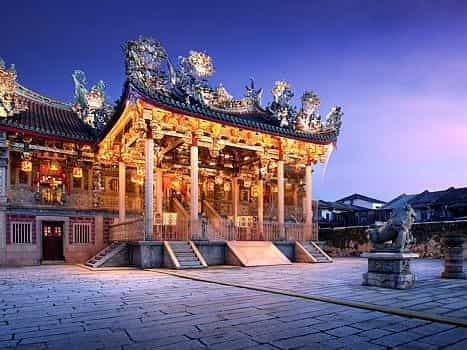 Situated approximately 21 kilometres away from Lexis Suites Penang, Khoo Kongsi Penang is also known as Leong San Tong Khoo Kongsi or Khoo Kongsi Temple, it is a large Chinese clan house built more than 100 years ago by the early Khoo clansmen. Heavily decorated with elaborated and detailed architecture, the Khoo Kongsi Penang is one of Penang's major historic attractions and it is also the grandest clan temple in the country. Hidden among the pre-war houses, Khoo Kongsi Penang is located at Cannon Square, the heart of the oldest part of the city of George Town.
Back in the 17th and 18th centuries, many of the Khoo clansman whose origin are from Sin Kang Village, Hokkien Province in China migrated to the countries in South East Asia and of course, Malaysia as well. Among the places in Malaysia, Penang saw the most Khoo immigrants in the 19th century. Being the largest and most established clan family in Penang, The Khoo Kongsi Penang is part of the goh tai seh (five big clans) that formed the backbone of the Hokkien community in the olden days of Penang. The origin of the Leong San Tong Khoo Kongsi began when the Khoos gathered to celebrate the birthday of the Patron Saint Tua Sai Yah and they realized that they needed a clanhouse to unite the clansmen as well as to worship their ancestors.
In 1850, the Khoos bought the site of Leong San Tong Khoo Kongsi and in the following year, it was converted into a clanhouse, in which the deity of Tua Sai Yah was enshrined. Ancestor tablets were placed on the altar and trees were planted in the courtyard to provide shade. The Khoo Kongsi Penang was used for gathering, ancestral worship and weddings. Almost half a century later, the Khoos decided to demolish the old clanhouse and rebuild a new one which took eight years to complete. However, the building was almost completely burned down by fire on Chinese New Year's Eve in 1901. Clueless over how the fire started, the Khoos believed that it was the wrath of god for erecting a lavish temple to worship their patron saints and ancestors. In 1902, the Khoos rebuilt a scaled-down version of the original Khoo Kongsi temple.
The opening hours of Khoo Kongsi Penang is from 9.00 am until 5.00 pm daily, including Sundays and Public Holidays. Book your stay at Lexis Suites Penang now and visit Khoo Kongsi Penang with your family and friends to learn about the gripping history of the wealthiest clan in Penang.
Entry Fee:
RM10 (Adult) | RM1 (Children)
(Prices are subject to change)
Map:
18, Cannon Square, George Town, 10450 George Town, Pulau Pinang, Malaysia
Monday9:00am - 5:00pm
Tuesday9:00am - 5:00pm
Wednesday9:00am - 5:00pm
Thursday9:00am - 5:00pm
Friday9:00am - 5:00pm
Saturday9:00am - 5:00pm
Sunday9:00am - 5:00pm