City Hall Esplanade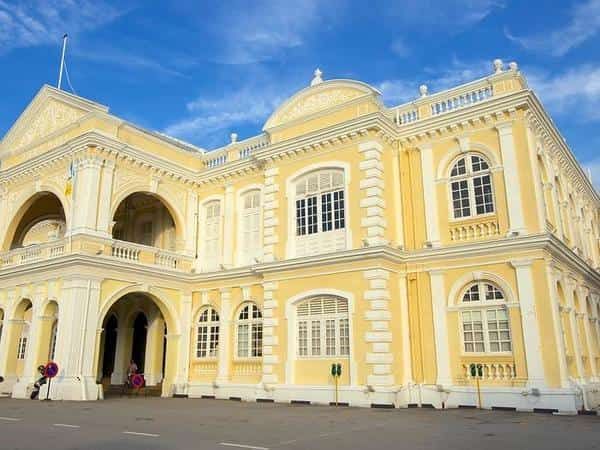 Situated 22 kilometres away from Lexis Suites Penang, the City Hall Esplanade, Penang also known as the Penang City Hall or Dewan Bandaraya is a local government headquarter in George Town, Penang, Malaysia. The Penang City Hall houses the head office of the Penang City Council and it is located at Esplanade Road which overlooks the historic parade ground.
Constructed in 1903, the elegant Penang City Hall is a two-storey building with Edwardian Baroque and Palladian architectural styles. Originally known as Municipal Offices, the Penang City Hall was built due to the insufficient office space at the adjacent Penang Town Hall which housed the local government for George Town and served as a venue for social events for European elite. After the completion of the Penang City Hall, the Penang Town Hall serves as a venue solely for social functions while the Penang City Hall served as the seat of the George Town City Council. The Municipal Offices was renamed as City Hall in 1957 and back in those days, the municipal offices are notably one of the first buildings in Penang to be completely fitted with electric lights and fans.
Inside the Penang City Hall, visitors may collect informative brochures and check out the small gallery featuring the heritage of George Town, Penang. Visitors may also look out for the large cenotaph located on the Esplanade nearby as this monument was built in 1922 by the British to commemorate the soldiers who lost their lives in World War I. Some of the popular activities that visitors would do when visiting the Penang City Hall is to check out its surroundings. Many visitors would also use the large space located right in front of the Penang City Hall as a venue for major events that are happening throughout the year such as concerts, ceremonies, parades, dances and even as a spot for routine exercises carried out by the locals.
During the evening, visitors may enjoy the brightly lit building of the Penang City Hall or even check out the Penang Esplanade Food Court where one may feast on fresh local seafood while enjoying the sea breeze. Visitors may also check out the nearby attractions such as Fort Cornwallis, a famous British fort built by Sir Captain Francis Light and his crews back in the year of 1786. This attraction is only four minutes' walk away from the Penang City Hall.
The Penang City Hall's opening hours are from Monday until Friday from 8.00 am until 5.00 pm. Don't miss out the chance to check out The Penang City Hall while you're staying at Lexis Suites Penang!
Entry Fee:
Free
(Prices are subject to change)
Map:
Georgetown, 10200 George Town, Penang, Malaysia
Monday8:00am - 5:00pm
Tuesday8:00am - 5:00pm
Wednesday8:00am - 5:00pm
Thursday8:00am - 5:00pm
Friday8:00am - 5:00pm