Kek Lok Si Temple, Air Itam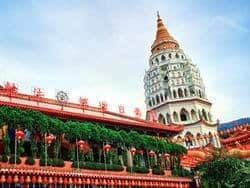 The Kek Lok Si temple is a Buddhist temple situated at Air Itam, Penang and approximately 20 kilometres away from Lexis Suites Penang. This magnificent temple faces the sea and commands an impressive oceanic view, it is one of the largest and most spectacular Buddhist temples in Southeast Asia. Also known as the Temple of Supreme Bliss, the Kek Lok Si temple was built and renovated over a period of 40 years (from 1890 to 1930), attracting visitors with its striking seven-storey Pagoda of Rama VI (Pagoda of Ten Thousand Buddhas) with 10,000 alabaster and bronze statues of Buddha and the 36.57 metres (120.0 ft) tall bronze statue of Kuan Yin, the Goddess of Mercy.
Just 40 minutes' drive by car from Lexis Suites Penang, the Kek Lok Si temple comprises a series of monasteries, prayer halls, temples, souvenir kiosks, food and drinks stalls, as well as beautiful landscaped-gardens. The architecture of the Pagoda is also fascinating as it combines a Chinese octagonal base with a middle tier of Thai design and a Burmese crown which represents syncretism of the ethnic and religious diversity in the country.
During Chinese New Year, the Kek Lok Si temple's night view is truly stunning and impressive as the complex is decorated by thousands of lights brightly illuminating the temple's scenery. However, the lights will be lit for only 30 days during the celebration of Chinese New Year. The Kek Lok Si temple's opening hours are from 7.00 am until 5.30 pm daily. The admission is free, except for a small entry charge of RM2 (prices are subject to change) for the pagoda and the Sky Lift.
Whether you're visiting the temple as a tourist or a devotee, there is always something great to learn about this cultural and historic temple. Book your stay at Lexis Suites Penang and enjoy a 5-star lodging for you to rest and recharge in between your exciting explorations!
Entry Fee:
Free
(Prices are subject to change)
Map:
11500 Air Itam, Penang, Malaysia
Monday8:30am - 5:30pm
Tuesday8:30am - 5:30pm
Wednesday8:30am - 5:30pm
Thursday8:30am - 5:30pm
Friday8:30am - 5:30pm
Saturday8:30am - 5:30pm
Sunday8:30am - 5:30pm