Penang Bridge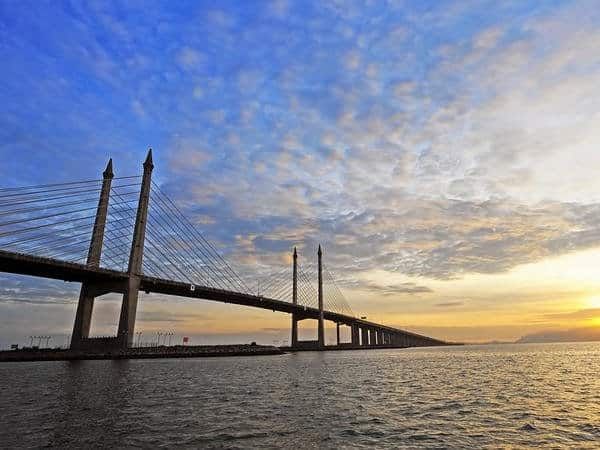 The Penang Bridge (E36) is synonymous with the popularity of the Pearl of the Orient itself. Known as one of the national landmarks of Malaysia, the Penang Bridge (also known as Jambatan Pulau Pinang by the locals) is a dual carriageway toll bridge that was the only road connection between the mainland and the Penang Island right up till the year 2014. Just a 26 minutes' drive away from Lexis Suites Penang, the Penang Bridge stretches 13.5 kilometres (8.4 miles) between the mainland and the island, making it the second longest bridge in Malaysia and the fifth longest bridge in Southeast Asia by total length, while its length over water is 8.4 kilometres (5.2 miles).
Completed in 1985, the Penang Bridge was first brought up as an idea to link Seberang Perai to Penang Island in the early 1970s and it was suggested by Tun Abdul Razak, the second Prime Minister of Malaysia and Tun Dr Lim Chong Eu, the second Chief Minister of Penang. Back in those days, ferry services owned by the Penang state itself was the only transportation travelling between Penang Island and the mainland. Due to the massive congestion of the ferry terminal, the idea of a linking bridge was conceived.
Throughout the years, plans and research were underway until the construction finally began in 1982, and it was officially opened on 3 August 1985 by the fourth Prime Minister of Malaysia, Tun Dr. Mahathir Bin Mohamad. More than 70,000 people use the Penang Bridge daily. Sometimes massive congestions might take place due to unforeseen circumstances or during festive seasons. Therefore, the Penang Second Bridge (E28, Sultan Abdul Halim Muadzam Shah Bridge) was completed in 2014 to mitigate the heavy traffic.
Despite not being an official sightseeing spot in Penang, Penang Bridge will always be the sight that greets most of the visitors of the island. The Penang Bridge is also a well-known spot for the Penang Bridge Marathon (or Penang Bridge International Marathon) and this annual marathon event was first established in 1986. Organized by the Penang State Tourism Development office and fully supported by the Penang State Government, the marathon is held annually on the Penang Bridge before it moved its location to the Penang Second Bridge, making the marathon the largest mass-participation sporting event in Penang, attracting tens of thousands of both local and overseas running enthusiasts.
Intrigued by the idea of running across the longest bridge in Southeast Asia, then sign up for the annual Penang Bridge Marathon. Give your body and mind the quality rest it needs before and after the race by staying at the 5-star Lexis Suites Penang. You'll definitely enjoy taking a long dip in your very own private pool and relaxing in your private steam room to boost your muscle recovery afterwards.
Map:
Jambatan Pulau Pinang, Perai, Malaysia