Sultan Abdul Halim Muadzam Shah Bridge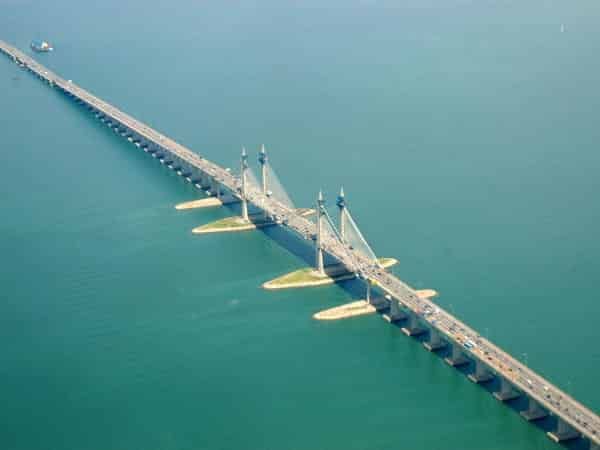 The Penang Second Bridge (E28, Sultan Abdul Halim Muadzam Shah Bridge) was completed in 2014. The idea to build a second bridge linking Seberang Perai to Penang Island was suggested by the fourth Prime Minister of Malaysia, Tun Dr. Mahathir Mohammad and the third Chief Minister of Penang, Tan Sri Dr Koh Tsu Koon in 1995. The Penang Second Bridge connects Bandar Cassia in Seberang Perai with Batu Maung on Penang Island. Although the original plan was to have the bridge be completed by 2011, the official construction only began in 2008 due to some delay and issues with the plan. The Penang Second Bridge stretches across 24 kilometres (15 miles) with its length over water being 16.9 kilometres (10.5 miles), making it the longest bridge in Malaysia and the longest in Southeast Asia.
Besides popularly known as the longest bridge in Malaysia and Southeast Asia, the Penang Second Bridge is also the infamous venue for the Penang Bridge International Marathon, an annual marathon event that was originally held at the First Penang Bridge. The Penang Bridge International Marathon is organized by Penang State Tourism Development office and it is fully supported by the Penang State Government. In 2014, the marathon was moved from the first Penang Bridge to Sultan Abdul Halim Muadzam Shah Bridge on 16 November 2014, making the event the longest bridge marathon in the world.
Intrigued by the idea of running across the longest bridge in Southeast Asia, then sign up for the annual Penang Bridge Marathon. Give your body and mind the quality rest it needs before and after the race by staying at the 5-star Lexis Suites Penang. You'll definitely enjoy taking a long dip in your very own private pool and relaxing in your private steam room to boost your muscle recovery afterwards.
Map:
Second Penang Bridge, Bayan Lepas, Penang, Malaysia