Komtar Penang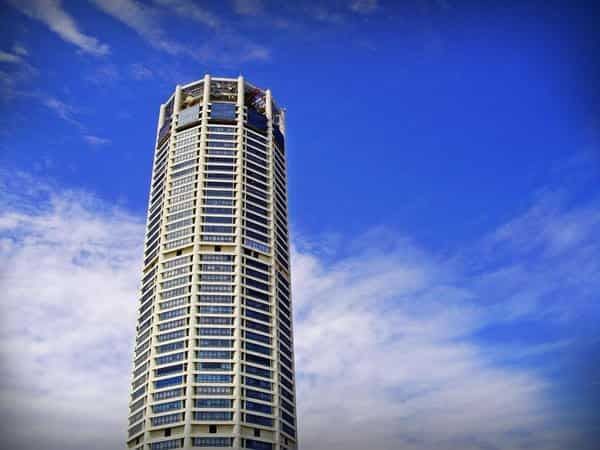 5 Amazing Things You Can Experience at Komtar Penang
Complex Tunku Abdul Rahman or Komtar Tower, Penang's tallest structure, is one of today's favourite tourist spots in the historical, world heritage site of Penang. Komtar Penang is located at 1 Jalan Penang, George Town, Penang. This cylindrical, 68-storey tower is George Town's most prominent landmark and is hailed as the sixth tallest building in Malaysia.
Here's a list of things that you will enjoy doing here:
1. Breath-Taking 360 Degree View at the Top of Komtar
The best place to take in the magnificent view of Penang is from the top of Penang's highest tower. At Komtar's Window at the Top, you will get a spectacular 360 degrees view of George Town, the magnificent Penang Bridge and the charming Butterworth mainland. Enjoy the breeze, stare into the horizon as the atmosphere change from broad daylight to colourful sunset with the astonishing view of glittering neon lights below.
2. The Thrilling Komtar's Glass-Bottomed Rainbow Skywalk
This is one of the best and most satisfying experiences you can get in Komtar. Feel your adrenaline rushing as you take up the challenge walking on the Rainbow Skywalk at level 68, a glass-bottomed walkway 249 meters above the ground.
Launched in 2016, Komtar Skywalk is a 16-meter, semi-circle skywalk at the rooftop of the skyscraper. It is the highest skywalk in Malaysia and the first in Southeast Asia.
The adventure will not be complete without a photo of yourself during the walk. Make sure to have your camera or mobile phone ready for selfies.
3. Scrumptious Treats at an International Buffet
When it comes to food, you'll be spoilt for choice with the wide varieties available. Komtar Penang is a place where a fusion of local and international cuisine is always available. Enjoy a sumptuous lunch or dinner at Top View Restaurant located at the 59th and 60th floor. They offer an international buffet to satisfy your palate while enjoying the fantastic view of George Town.
At the rooftop, refreshing drinks and delectable desserts await you at Coco Banana Bar and Bistro. If you're looking for some quality time with your friends and family, you can rely on Imperial Court Restaurant, a Chinese restaurant serving authentic dim sum and Cantonese specialties.
4. Educational Entertainment for the Whole Family
Check out an interactive and educational tour of over 200 prehistoric dinosaurs with the help of the latest animatronics at The Jurassic Research Center. Be amazed by the Magic Mirror Maze showing your different reflections that will surely make your day. You must also try the intensive-visual journey with 7D Discovery Motion Theater's virtual reality show!
5. The Best Shopping Experience
Once hailed as the premier shopping destination in Penang, Komtar Penang Mall is a complex of many shops, retail outlets and specialty stores for your personal needs. From clothes, latest gadgets and repair shops, to souvenirs and locally-made products. If you still have some extra time left, you can also visit other stores in the adjacent Prangin Mall, connected by an outdoor strip called the Komtar Walk.
Looking for a Place to Stay in Penang?
Lexis Suites Penang, a 5-star beachfront hotel located at Teluk Kumbar, Bayan Lepas is only a 10-minute drive away from Penang International Airport and 31-minute drive away from Komtar Penang. Enjoy the majestic view of the nearby Penang Bridge while relaxing in one of our 222 luxury suites equipped with your own private dip pool and steam room near.
Lexis Suites Penang provides free Wi-Fi, so it's the perfect place for business or pleasure. Plus, it comes with an awesome view of the sea and the clear blue sky. Known for its unparalleled services, Lexis Suites Penang has won countless awards such as HotelsCombined Recognition of Excellence 2017, BrandLaureate SMEs Best Brands Awards and Asia's Best Employer Brand Awards. So log on to www.lexissuitespenang.com to book your stay now for guaranteed best rates.
Map:
10000, Georgetown, George Town, Penang, Malaysia
Monday10:30am - 10:30pm
Tuesday10:30am - 10:30pm
Wednesday10:30am - 10:30pm
Thursday10:30am - 10:30pm
Friday10:30am - 10:30pm
Saturday10:30am - 10:30pm
Sunday10:30am - 10:30pm