Cheong Fatt Tze Mansion, Lebuh Leith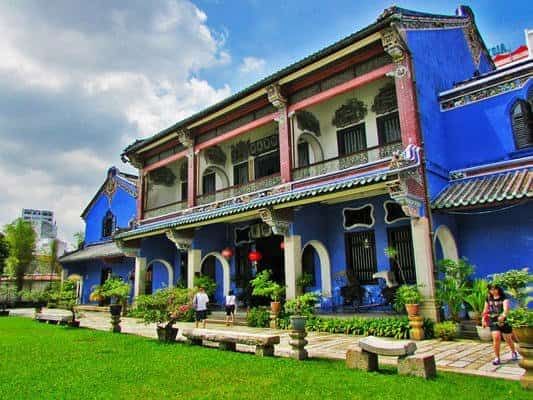 If there is one edifice that stands out among all buildings in George Town, it is definitely the Cheong Fatt Tze mansion. At a glance, one could easily tell that the structure has been around for ages.
The features of the mansion heavily take from the Su Chow Dynasty that can be dated back 3,000 years ago. The Chinese-inspired porcelain work, louvered windows, and the floor tiles made of encaustic clay make this Indigo-themed mansion more remarkable.
The Cheong Fatt Tze Mansion History
This boutique hotel was erected during the 1880s. Chinese businessman Cheong Fatt Tze commissioned the building's construction. He left China and migrated to Indonesia to seek a fortune. The mansion in Leith Street served as his residence when he expanded his business in Penang.
Things to Do
The Cheong Fatt Tze Mansion in Penang is a must-visit museum if you are a history buff. You'll be mesmerized by Penang's genuine old-world charm oozing from the displays in the museum, such as the period utensils and other paraphernalia.
The tour guide will give you more insights on Cheong Fatt Tze's life story, right from his humble beginnings to his riveting success. You will also be able to take gorgeous photographs around the beautiful mansion.

How to Get There
From the city center, it will only take an 11-minute drive to reach the Cheong Fatt Tze Mansion. It is located at the corner of Leith Street and adjacent to Muntri Street.
Cheong Fatt Tze Mansion Opening Hours
Daily tours start at 11:00 am, 2:00 pm and 3.30 pm. Each tour lasts for 45 minutes.
Where to Stay
Lexis Suites Penang is one of the best 5-star hotels nearby. You could reach the hotel via less than an hour drive from the mansion. The fastest route to get to the hotel is via Lebuhraya Tun Dr. Lim Chong Eu/Route 3113. Contact Lexis Suites Penang for more information and visit www.lexissuitespenang.com to learn more about the hotel's amenities. Book a room straight from our website to get the lowest rate.c
Entry Fee:
RM17 (Adult) | RM8.50 (Child below 12 years old)
(Prices are subject to change)
Map:
14, Leith Street, George Town, 10200 George Town, Pulau Pinang, Malaysia
Monday11:00am / 1:30pm / 3:00pm
Tuesday11:00am / 1:30pm / 3:00pm
Wednesday11:00am / 1:30pm / 3:00pm
Thursday11:00am / 1:30pm / 3:00pm
Friday11:00am / 1:30pm / 3:00pm
Saturday11:00am / 1:30pm / 3:00pm
Sunday11:00am / 1:30pm / 3:00pm