Photo Credit: 123RF | @paylessimages
TOP 5 Authentic Nyonya Food In Penang
Published April 28, 2023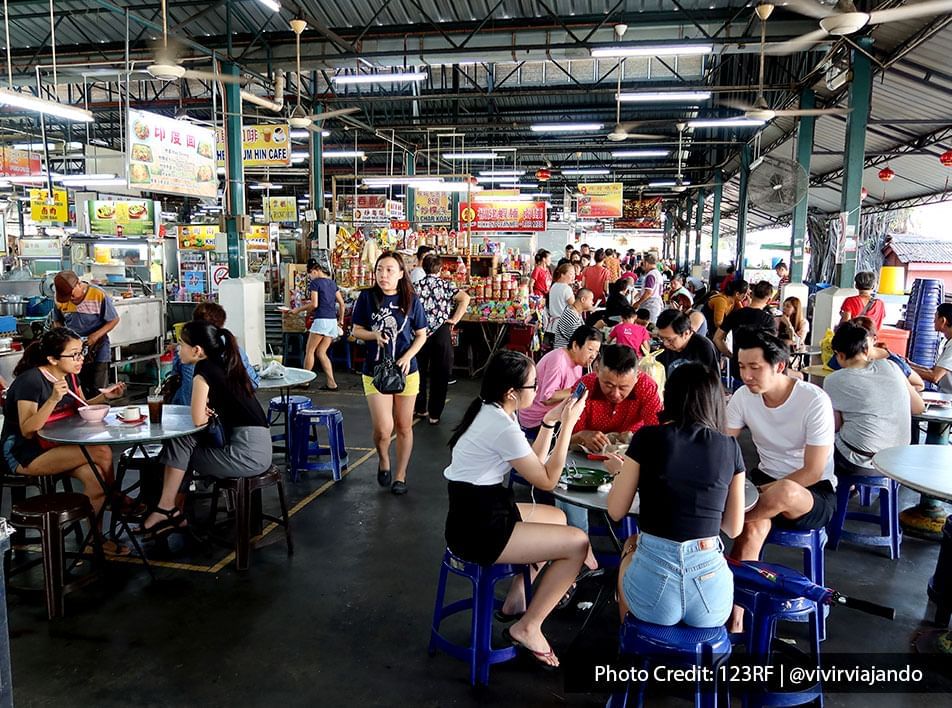 Dubbed the "Culinary Capital of Malaysia", Penang is a food paradise offering an endless variety of mouthwatering cuisine, thanks to its unique blend of traditions and melting pot of different cultures, spanning centuries. In 2014, Lonely Planet declared Penang as the "world's best place for foodies" and visitors traveling to this island are able to assault their senses with a dizzying array of tantalizing smells and vibrant flavours. The complexity of its local dishes has a distinct influence from an amalgamation of heritage from Chinese, Malay Indian and Peranakan flavours.
Aside from its burgeoning fine dining and bar scene, and exciting hawker food culture, Penang is also known for its Peranakan cuisine. Evolving from the migration patterns of the Chinese to the Malacca Straits over the last 500 years, Peranakan or Nyonya food in penang blends the traditions and techniques of Malay, Thai, Indian and Chinese cooking, with Portugese, Dutch and British influences, resulting in a fusion of harmonious flavours and aromas – combining sweet, spicy, salty and sour – to wow the palate with tangy, aromatic, spicy and herbal notes.
The Peranakan style of cooking traditionally fuses Chinese and Malay elements using natural ingredients, spices and local herbs such as coconut milk, salted soybean paste, ginger, candlenuts, pandan leaves, shrimp paste, cinnamon, cloves, nutmeg, coriander seeds, kaffir lime leaves, galangal, lily buds, fish maws, blue pea flower, lemongrass, gula melaka, bunga kantan (ginger flower), daun kaduk and buah keluak. However, Nyonya food in Penang are given an added Thai influence, with the use of lime juice and tamarind, to bring a tangy and sour edge.

Those looking to savour authentic Nyonya food should not miss out on these following Peranakan restaurants in Penang:
1. Bibik's Kitchen Nyonya Cuisine (Non-Halal)
Located in a row of colonial shophouses is this hidden gem run by a mother and daughter duo serving authentic homecooked Nyonya food in Penang. Unpretentious and modest, this restaurant radiates a homely vibe serving simple yet delicious Nyonya delights including Assam Laksa Kerabu, Sambal Petai, Ayam Pong Teh, Tau Ewe Bak and Ulam Kacang Botol.

Address: 73, Jalan Sri Bahari, Georgetown, 10050 Georgetown, Penang, Malaysia
Opening Hours: 11:30am – 3:00pm; 6:00pm – 9:00pm daily (Closed on Mondays)
Contact: +6012-669 7488
2. Ivy's Nyonya Cuisine (Pork-Free)
This humble Nyonya eatery tucked away in a pre-war converted house, which recently earned its Michelin Bib Gourmand status, is helmed by a married couple for over 15 years; Ivy handles the kitchen while her husband waits tables. Dig into delectable Penang Nyonya cuisine such as Kapitan Chicken Curry, Joo Hoo Char, Beef Rendang and Bee Koh Moi (Black Glutinous Rice).

Address: 58 Jalan Chow Thye, George Town, 10050 Georgetown, Penang, Malaysia
Opening Hours: 6:00pm – 9:00pm (Tuesdays); 12:00pm – 3:00pm / 6:00pm – 9:00pm (Wednesdays to Sundays) (Closed on Mondays)
Contact: +6013-433 7878
3. Aunty Gaik Lean's Old School Eatery (Halal)
When you're in Penang, make sure to treat your tastebuds to a gastronomic adventure filled with nostalgia by making a pit-stop at this 1-star Michelin restaurant that serves some of the best Baba Nyonya cuisine in Penang. Occupying two shoplots in Lebuh Bishop, Penang, this spacious Peranakan restaurant is aptly decorated with old-school memorabilia in show windows, vintage ceiling fans and a 60s soundtrack exuding the charm of a bygone era.
Featuring an extensive menu that offers diners a wide variety of traditional and modern Nyonya dishes, Chef Gaik Lean has been guarding her secret recipes for decades and she makes no compromise in terms of food quality. Many items are made from scratch including pie tee (top hat) and gulai tumis which uses over eight ingredients in the curry paste, such as fresh saffron. Must-try items include the Sambal Brinjal with a perfect balance of sweet, spicy, sour and salty notes; and the famous Nasi Ulam - an old-time recipe which pairs wonderfully with other side dishes.

Address: 1 Lebuh Bishop, Georgetown, 10200 Georgetown, Penang, Malaysia
Opening Hours: 12:00pm – 2:30pm; 6:00pm – 9:30pm (Wednesdays to Sundays) (Closed on Mondays & Tuesdays)
Contact: +6017-434 4398
4. Flower Mulan Nyonya Cafe (Non-Halal)
Don't be fooled by its unique location. Situated inside a flower shop in Pulau Tikus, is one of the best Nyonya restaurants in Penang. Decorated with beautiful flowers and big red lanterns all over, this Penang Peranakan restaurant is breathtakingly beautiful and makes for the ideal dining spot for Insta-worthy photos or the perfect date night.
This hidden gem serves homecooked Nyonya food that your grandmother will be proud of such as Assam Pedas, Tu Tor Soup (Pig Stomach Soup), Sambal Tumis Ikan Pari, Lor Bak (five-spice pork rolls) and Chap Chai (Braised Mixed Vegetables).

Address: 266 & 268, Jalan Burma, Pulau Tikus, 10350 Georgetown, Penang, Malaysia
Opening Hours: 11:30am – 10:30 pm (Mondays, Thursdays, Fridays & Sundays); 11:30am – 11pm (Saturdays). (Closed on Tuesdays & Wednesdays)
Contact: +6012-472 3671
5. Nyonya Willow Restaurant (Non-Halal)
Do you miss the taste of homecooked cooking? Fret not, for Nyonya Willow Restaurant is here to satisfy your longing for Penang Nyonya cuisine. Named after a beautiful tree of the Salix family, this Peranakan restaurant, which is located within the secluded neighbourhood of Taman Tunas Damai in Bayan Lepas, serves up lip-smacking Nyonya dishes including Sambal Petai, Otak-Otak, Joo Hoo Char, Perut Ikan, Chicken Kapitan and Gulai Tumis.

Address: Arena Curve, 72-1-3, Jalan Mahsuri, Bandar Sunway Tunas, 11900 Bayan Lepas, Penang, Malaysia
Opening Hours: 11:45am – 2:00pm, 6:00pm – 9:00pm (Opens daily. Closed on Mondays)
Contact: +6012-773 7573
If you are craving to savour more local food, make sure you check out Penang's amazing street food during your stay on the island. Don't miss out on an enjoyable and relaxing retreat at Lexis Suites Penang while food hunting.