Penang National Park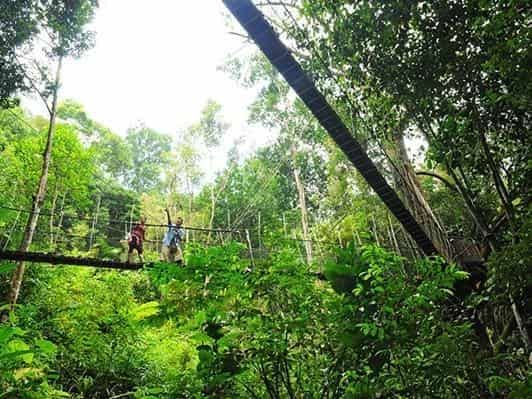 Situated approximately 30 kilometres away from Lexis Suites Penang, the Penang National Park (also locally known as Taman Negara Penang or Taman Negara Pulau Pinang) is believed to be the smallest national park in the world. Home to a rich natural heritage comprising more than 1,000 species of flora and 271 species of wildlife, it is used by scientists, researchers and nature lovers who are interested in exploring its natural treasures.
Previously known as Pantai Acheh Forest Reserve, the Penang National Park was set up to preserve and protect the flora and fauna in the area such as mangroves, mudflats, lakes and several sandy beaches within the park which are important nesting spots for marine turtles. Some of the mammals, reptiles and diverse species of insects and amphibians inhabiting the park include flying lemurs, sea otters, dolphins and monkeys.
The Penang National Park is also known as the 'Bay of Glowing Amber' due to its scenic and spectacular view of the sunset. One of the most frequented beaches in the park is Pantai Kerachut where a suspension bridge connects the trail to the beach. The seasonal and unique meromictic lake is the most prominent feature on the beach as it contains permanently stratified fresh water and seawater layers. At the end of the sandy stretch of Pantai Kerachut lies the favourite nesting spot for the Green and Oliver Ridley turtles.
With lush greenery surrounding the park and the aroma of nature flowing from every corner, visitors will not be able to resist the temptation to carry out fun activities such as hiking, climbing, trekking, swimming and wildlife observation. The Penang National Park is also a great place for both adults and kids as the park offers a vast opportunity for research and education.
If you're a nature lover, don't forget to visit the Penang National Park with your loved ones. But before doing so, make sure to book your stay with us at Lexis Suites Penang for a truly unforgettable stay!
There is no entrance fee for visitors of the Penang National Park. However, certain activities are chargeable. Do contact the Penang National Park for more info.
Entry Fee:
Free
(Prices are subject to change)
Map:
Pejabat Taman Negara P. Pinang, jalan Hassan Abbas, 11050 George Town, Penang, Malaysia
Monday8:00am - 5:00pm
Tuesday8:00am - 5:00pm
Wednesday8:00am - 5:00pm
Thursday8:00am - 5:00pm
Friday8:00am - 5:00pm
Saturday8:00am - 5:00pm
Sunday8:00am - 5:00pm