Batu Maung Fishing Village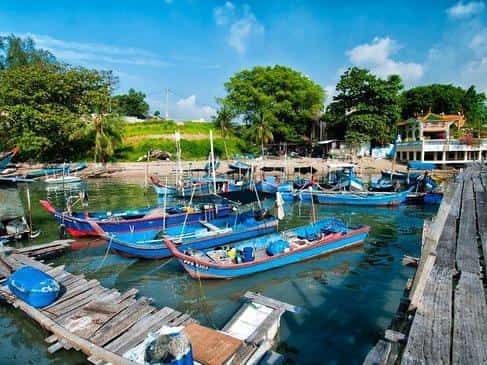 Batu Maung Fishing Village is located approximately 9 kilometres away from Lexis Suites Penang. It is a neighbourhood near Bayan Lepas situated in the Southwest Penang Island District, Penang, Malaysia and it consists of several smaller fishing villages known as Kampung Seronok, Kampung Binjai, Permatang Damar Laut, Kampung Batu Maung, Kampung Teluk Tempoyak and Kampung Jalan Baru. Around 20 years ago, Batu Maung Fishing Village is a small fishing village in Penang which can only be accessible from Bayan Lepas. However, as years passed by, Batu Maung Fishing Village experienced rapid development due to its proximity to Bayan Lepas Free Trade Zone (FTZ).
For the convenience of the citizens living in Batu Maung Fishing Village, a four-lane highway was opened in 1994 that linked Batu Maung to Gelugor (coastal highway) and this highway shortened the journey from Batu Maung to Penang Bridge from an hour to approximately 15 minutes. In Batu Maung Fishing Village, there are at least 3 primary schools and 1 secondary school. However, some of the schools lack the most common facilities, such as proper playing fields and halls due to limited space available.
As Batu Maung Fishing Village continues to develop, notable companies with factories as well as newly built residential houses filled the two main roads in Batu Maung Fishing Village, namely Jalan Batu Maung, which became an industrial main road and Jalan Permatang Damar Laut, an area with housing estates. Many people start to settle in Batu Maung Fishing Village due to its lower rental rate and this contributes to the population boom in Batu Maung Fishing Village.
Batu Maung Fishing Village is a deep-sea fishing port and home to the Fisheries Research Institute (FRI), a federal-government agency that focuses on marine research. An aquarium is also located within its vicinity where it showcases a small collection of marine life and is open to the public at a minimal charges per entrance. Located right next door is the WorldFish Center, an international, non-profit research organization that harnesses fisheries and aquaculture to reduce poverty and hunger.
Being a fishing village, it is not at all surprising that Batu Maung Fishing Village is famous for seafood. Besides that, Batu Maung Fishing Village is also famous for having a temple dedicated to Admiral Cheng Ho (Zheng He) known as Sam Poh Footprint Temple. The small seaside temple overlooks the fishing boats and the Penang Second Bridge. Admiral Cheng Ho's portrait is also painted on a giant boulder right outside the temple, along with a huge 'footprint' where the Chinese believe that it was the footprint of Admiral Cheng Ho himself. Some of the other notable attractions in Batu Maung Fishing Village include the War Museum which showcases the war relics from the Second World War.
Book your stay at Lexis Suites Penang and grab the opportunity to visit Batu Maung Fishing Village. Don't forget to check out the aquarium or try one of the seafood restaurants!
Map:
Bayan Lepas, Penang, Malaysia