Queen Street, Penang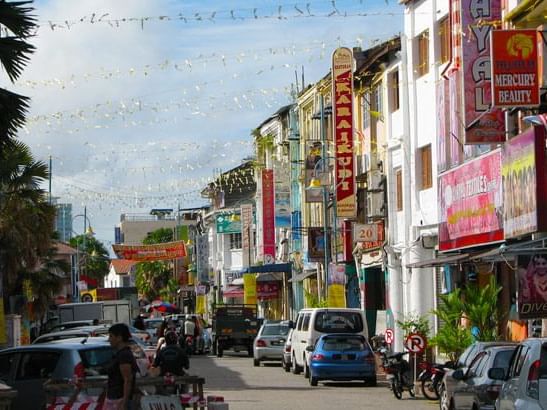 If you are looking for your next destination to visit in Malaysia, Penang is an absolute excellent choice. Penang (also known as Pearl of the Orient) is one of Malaysia's major touristic attraction because of its rich heritage, friendly people and food among other things.
Out of all the tourist attractions that Penang has to offer, the most popular tourist destinations, Queen Street and Little India would surely steal your heart. These two attractions not only offer a rich intercultural experience, but also beautiful historical sites, relaxing beaches, shopping outlets, and enormous mountain ranges. Whatever you seek, Penang has it and more!
Queen Street One of the most interesting spots to visit in Malaysia is the Queen Street located in Penang. Penang Queen Street, also known as Lebuh Queen, can be accessed by Rapid Penang bus nos. 11, 104, 201, 202, 203, 204, 301 and 302. You need to go through Chulia Street to get to it. This place is a fusion of both Malaysian and Indian culture as a large number of its inhabitants are of Indian decent.
Museums hopping and taking plenty of Insta-worthy shots are just some of the many things you can do at Queen Street Penang. The richness and culture diversity of this place will make you feel as if you're visiting two different countries at once, as you'll get to experience Malaysian culture and Indian culture at the same time. Talk about killing two birds with one stone!
However, if there is one thing that you absolutely must do during your visit to Queen Street, it's food tripping. Queen Street is home to many local food markets which offer a wide range of cuisines. Here's some not-to-be-missed delicacies that you need to try for a complete Queen Street food experience:
• "Lor Bak" - A combination of deep-fried strips of pork loin meat covered in bean curd skin, fish cake, tofu and sausage. It is served with the popular Penang "Lor" sauce that tastes slightly sweeter. This dish is a perfect combination of sweet and savoury.
• Mee Goreng - It's a noodle dish plated with a generous amount of cuttlefish, bean sprouts, and potatoes. It is tossed in a sauce made of tomato, chili, and soy sauce. This is a popular Indian Muslim so be prepared to be blown away by its flavoursome cross-cultural taste.
• Nasi Kandar - Another popular Indian Muslim dish that you should try is Nasi Kandar. A rice dish topped with curry-based vegetable or meat dish. It is served with lots of chilli, so this is for those adventurous spicy dish lovers. This is quite a common Queen Street Indian food, so it is widely available there as well as the nearby streets.
Little India Penang
Little India Penang is another attraction that you should most certainly visit in Penang, Malaysia. Located in Georgetown, Penang, it is characterized by a colourful neighbourhood embedded with numerous shops of Indian clothing, food, and jewellery. This is the perfect place for jewellery lovers as many shops here thrive on selling unique jewellery pieces.
To get the complete Little India experience, below is a list of things that you should not miss out on:
• Dance to the loud Bollywood music that echoes from the Indian shops and stores • Take a food trip along the string of Indian, Thai, and Singaporean food stalls • Take tons of photographs of the Sri Maha Mariamman Temple where you can find the oldest Hindu kovil
Penang Malaysia offers a truly unique experience that you and your family can enjoy. A trip to Queen Street and Little India will provide you a different and extraordinary memories unlike any other, as you get the chance to explore not just one, but multiple cultures at the same time. It truly offers the best of many worlds!
To complete the experience, book your accommodation at Lexis Suites Penang. Our beachfront hotel offers excellent accommodation that fits your needs and budget. It is strategically located near to many of Penang's key tourist attractions, making Lexis Suites Penang the most popular choice for both leisure and business travellers. Contact our team now to make arrangements or go to www.lexissuitespenang.com to book your rooms directly for guaranteed best rates.
Map:
Georgetown, 10200 George Town, Penang, Malaysia