Pinang Peranakan Mansion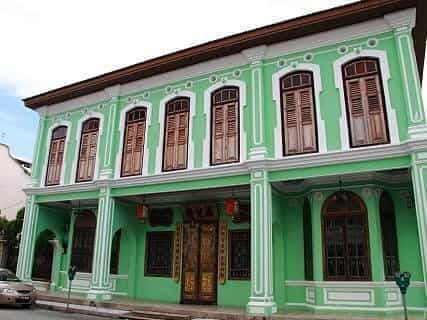 A museum dedicated to Penang's Peranakan heritage, the Pinang Peranakan Mansion is situated in George Town, Penang, and it is approximately 35 minutes' drive away from Lexis Suites Penang. Throughout the years, the Pinang Peranakan Mansion has also been known by several similar names such as Penang Peranakan Mansion and Pinang Peranakan Museum. The famous Pinang Peranakan Mansion which is 22 kilometres away from Lexis Suites Penang, is housed within a distinctive green-hued mansion at Church Street, which once served as the residence and office of Kapitan Cina Chung Keng Quee.
With over thousands of Peranakan artifacts, antiques and collectibles of the era on display, this Baba-Nyonya museum in Penang is truly an ornate sight to behold. The interior of the mansion is furnished with eclectic designs and architecture, incorporating Chinese carved-wood panels and English ceramic floor tiles as well as Scottish ironworks. Pinang Peranakan Mansion's opening hours are from 9.30 am to 5.00 pm daily including public holidays.
Complimentary conducted tours are only available for a group of 5 persons and above with prior arrangements. If heritage and cultural study is your thing, then book your stay with us at Lexis Suites Penang now so that you'll have a chance to drop by Pinang Peranakan Museum to learn more about the historical Peranakan culture.

Entry Fee:
RM20 (Adult)
Free for children
(Prices are subject to change)
Map
29, Church St, Georgetown, 10200 George Town, Penang, Malaysia
Monday9:30am - 5:00pm
Tuesday9:30am - 5:00pm
Wednesday9:30am - 5:00pm
Thursday9:30am - 5:00pm
Friday9:30am - 5:00pm
Saturday9:30am - 5:00pm
Sunday9:30am - 5:00pm