Penang Botanical Garden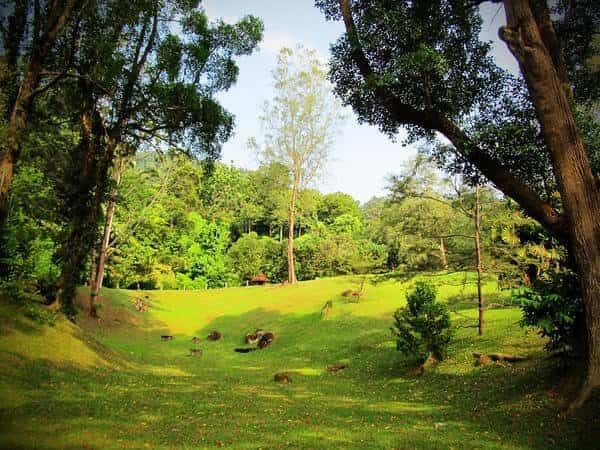 The Penang Botanical Garden (also known as Penang Botanic Gardens) is a public park situated 25 kilometres away from Lexis Suites Penang. The gardens, popularly known as "Waterfall Gardens" by locals due to the cascading waterfall nearby, were established in 1884 from an old quarry site, under the supervision of Charles Curtis, who was the first superintendent.
Just 37 minutes' drive away by car from Lexis Suites Penang, the Penang Botanical Garden hosts spectacular flora and fauna such as the Cannon Ball Tree (Couropita Guanensis), a unique tree that bears large, round and heavy fruits which often causes loud and explosive noises when the fruits fall to the earth. Naturally, they're not planted near the footpaths as such falling fruits could be dangerous. Besides that, visitors should also look out for the Pinang Palm (Areca Catechu) which lent its name to the island of Penang, and the Black Lily (Tacca Integrifalia), a unique flower with purplish-black coloured leaves.
While taking a stroll, visitors may also catch the sight of wildlife inhabiting the gardens such as Dusky Leaf Monkeys, Black Giant Squirrels, long-tailed Macaques and many more at Penang Botanical Garden. One could also catch the view of the famous Penang Botanical Garden waterfall up on the hills above the reservoir. There are many facilities and services provided at the gardens such as recreation or picnic areas for visitors to sit and enjoy the tranquillity surrounding of the gardens, access for the disabled, jogging track, stages, gazebo and many more. Food and souvenir can also be purchased from the Botanical Shop.
The Penang Botanical Garden's opening hours are from 5.00am until 8.00pm everyday including public holidays. As for the Penang Botanical Garden entrance fee, it is complimentary for all visitors so everyone can visit this beautiful and historic garden whenever they want. Book a room now with us at Lexis Suites Penang for a fun-filled stay!

Entry Fee:
Free

(Prices are subject to change)
Map:
Kompleks Pentadbiran,Bangunan Pavilion, Jalan Kebun Bunga, 10350 George Town, Pulau Pinang, Malaysia
Monday5:00am - 8:00pm
Tuesday5:00am - 8:00pm
Wednesday5:00am - 8:00pm
Thursday5:00am - 8:00pm
Friday5:00am - 8:00pm
Saturday5:00am - 8:00pm
Sunday5:00am - 8:00pm