Batu Ferringhi, Jalan Batu Ferringhi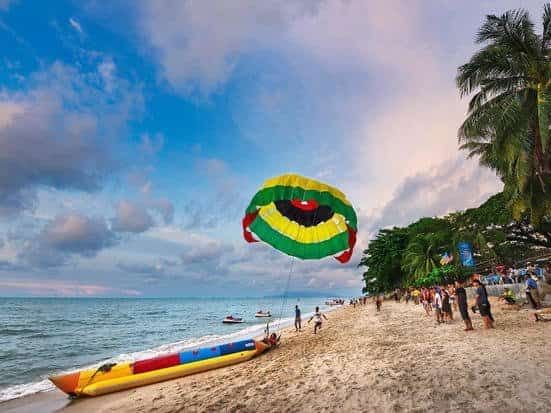 Situated 34 kilometres away from Lexis Suites Penang, Batu Ferringhi is a beach town located along the northern coast of Penang Island, Malaysia and it is one of the most popular town among the locals and foreigners alike. Just 51 minutes' drive from Lexis Suites Penang, Penang Batu Ferringhi is also located near George Town, Penang's most captivating and modern capital.
At Penang Batu Ferringhi, there is a wide range of beach sports and water sports available for visitors to enjoy such as Frisbee, beach volleyball, jet-skiing, deep sea-fishing and many more. For those who are up for a spine-tingling adventure, be sure to try parasailing and enjoy the view of the beach from the sky. Visitors may also enjoy a nice sunbathing session or a refreshing swim at the beach, although it is advisable to watch out for the common jellyfish near the shores.
A food court is also available near the beach where visitors may dine-in and enjoy the wide range of local dishes as well as western cuisines available. For seafood cravers, there are also seafood restaurants located around the beach area.
As the sun sets, Penang Batu Ferringhi comes alive with a carnival-like atmosphere, with an open-air bazaar comprising hundreds of stalls offering everything from ornate to home deco items and souvenirs. The well-known bazaar or night market (also known as pasar malam), is Batu Ferringhi Night Market, which should not be missed when visiting the northern part of Penang.
Can't wait to unwind at Penang Batu Ferringhi Malaysia? Make your reservations now with Lexis Suites Penang to experience the seaside wonders of Penang Batu Ferringhi!
Map:
11050 Batu Ferringhi, Penang, Malaysia